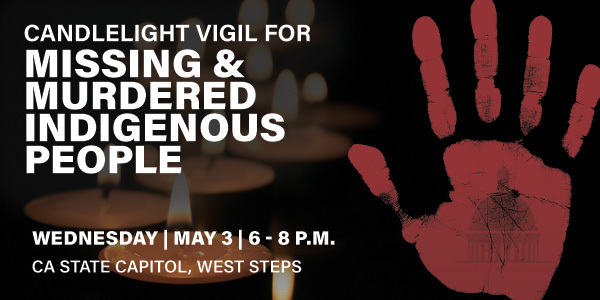 May 1 -5: Historic, first time ever: Capitol Dome lighting in red to commemorate state's Missing and Murdered Indigenous People
May 2: Assembly Select Committee on Native American Affairs (Details Coming) State Capitol, Room 126
May 3: Historic, first-time ever MMIP Candlelight Vigil 6 PM – 8 PM Capitol West Steps; Sacramento, CA
May 4: Opening of Assembly Floor Session with Prayer and Song by Assemblymember James C. Ramos, Chair, California Native American Legislative Caucus. 9 AM Assembly Floor Presentation of ACR 25 (Ramos) which designates the Month of May 2023 as Missing and Murdered Indigenous People Awareness Month in California
RSVP
ABOUT MISSING AND MURDERED INDIGENOUS PEOPLE
California has the largest population of Native Americans, more than any other state in the country. Cases of murdered and missing Indigenous women are 7 times less likely to be solved than any other demographic.
In 2016, 5,712 Missing and Murdered Indigenous cases were reported to the National Crime Information Center.
Homicide is the third leading cause of death for Indigenous women between the ages of 15 and 24.
Violence against American Indian and Alaska Native women face murder rates 10 times higher than the national average.
LEARN MORE ABOUT MURDERED AND MISSING INDIGENOUS PEOPLE MATTERS
Contact: Linda Sacks, Principal Consultant, California Native American Legislative Caucus Linda.Sacks@asm.ca.gov (916) 319-2045